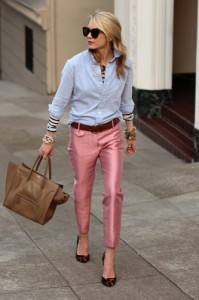 Just read a piece on how to give your closet-staple oxford a fresh take for spring, and this was one of the pics.  I'm drawn to the line design that this look offers.  Smart, crisp, fresh.
What's tricky; however, is that there are simply too many style elements that my brain is trying to take in! While I'm a fan of mixing concepts to bring in something unexpected, in this case I'm having a hard time trying to figure out what I should be focusing on.  You?
TO NOTE:
There are 7 different hues in this outfit, to include understated fashion colors and a mix of neutrals.  Tip:  When having fun with color,especially the color block trend, stick to 3 colors, four at most.
Stripes, leopard, metallic.  L-O-V-E that her style personality is so versatile and fun!  Tip:  While you likely have several layers of your style personality, when creating your outfit, try to create an overall story line, feel or mood.  Stripes are sporty, leopard is glam, metallic is luxe…Then we have a leather belt and chunky textured bracelets to consider?
At a glance, the net read of the "style" is sporty chic, but it almost gets lost in translation with too many colors, textures, patterns, and concepts.  Once last tip:  Consider modifying just one or two things to incorporate better flow.  For instance, if you wanna rock mixed prints go for the stripes and spots, but keep everything else simple.
….Now that's just my take.  What's yours?
Championing YOU…YOUR CONFIDENCE, BRAND, and STYLE
From The "Inside-Out", Kim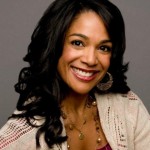 Desire more?
Kim Crumpler is Founder of Uniquely Savvy, Inc and is an 11 year veteran Personal Style & Branding Coach, Personal Shopper, Author, and Speaker. An expert, Kim delivers results and is passionate about helping men & women BE comfortable and confident in their own skin, look and feel amazing, and attract more of who and what they want in life! Kim invites you to: Join the conversation on Uniquely Savvy's facebook business page, call her for a phone consultation to determine how you will best benefit from her expertise, or book her to speak at your upcoming event. Available for keynotes, workshops, seminars, and girlfriend parties, the programs your audience will love range from personal style, to professional image and branding. Additionally, Kim co-authored, "Incredible Life: Top Experts Reveal How to Create Yours", and speaks to a variety of audiences on personal empowerment – bringing inspirational messages of hope and sharing practical tips and tools learned on her inside-out, "From Fear to Freedom" journey. Contact Kim @ 425.503.9885 or learn more at www.uniquelysavvy.com.