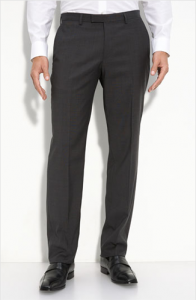 ….An added tip when shopping:  Consider cost per wear as you decide whether or not to make a purchase.  A piece that you love, speaks the language of your style/brand and has the fit and feel that you're after, but has a little higher price tag will serve you best in the long run vs. buying a less expensive version of the same thing.  Initially you may feel that you're saving some , but if you're looking for longevity, you'll want to  invest  in the name of quality.  You'll be happier, longer.
Think of a $175 basic  pair of slacks made of a year-round weight wool vs. a cotton/poly blend for $95 -both of the same style.  Initially, the $95 price tag calls to you, but due to the lack of quality and fiber content, the garment will pill and wear quickly (rayon, viscose, lyocel, acrylic tend to pill super fast!).  The wool pair will maintain its shape and quality for years.  Because it has a longer life you will get more wear out if it, therefore the cost per wear drastically decreases.
Think $175 divided by 3 years (a quality pair of wool slacks should last you even up to 5 years depending on how you often you wear and care for them).
Original cost= $175
Number of wears @ 1 time per week for 3 years = 156
Dry cleaning expense – $5 every other time worn = $390
Total expense = $565
Cost per wear = $3.62
Food for thought…
If you had the right fit, drape, style…AND you look and felt confident in any situation, whether presenting, meeting with an unexpected client, or grabbing a solid foundation for the cocktail party, would $3.62 per wear be worth the investment?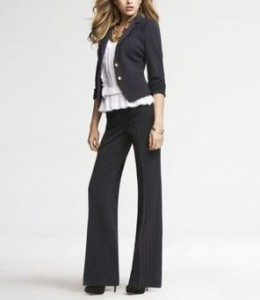 Think you'd keep that staple in your closet even longer or wear more often?  Your cost per wear would decrease even more!  (I've had my fave Trina Turk black pants in my closet for at least 4, if not 5 years already…they've more than paid for themselves!)
What has been a helpful for you when considering whether or not to make a purchase?
Championing YOU…YOUR CONFIDENCE, BRAND, and STYLE
From The "Inside-Out", Kim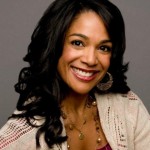 Desire more?
Kim Crumpler is Founder of Uniquely Savvy, Inc and is an 11 year veteran Personal Style & Branding Coach, Personal Shopper, Author, and Speaker. An expert, Kim delivers results and is passionate about helping men & women BE comfortable and confident in their own skin, look and feel amazing, and attract more of who and what they want in life! Kim invites you to: Join the conversation on Uniquely Savvy's facebook business page, call her for a phone consultation to determine how you will best benefit from her expertise, or book her to speak at your upcoming event. Available for keynotes, workshops, seminars, and girlfriend parties, the programs your audience will love range from personal style, to professional image and branding. Additionally, Kim co-authored, "Incredible Life: Top Experts Reveal How to Create Yours", and speaks to a variety of audiences on personal empowerment – bringing inspirational messages of hope and sharing practical tips and tools learned on her inside-out, "From Fear to Freedom" journey. Contact Kim @ 425.503.9885 or learn more at www.uniquelysavvy.com.