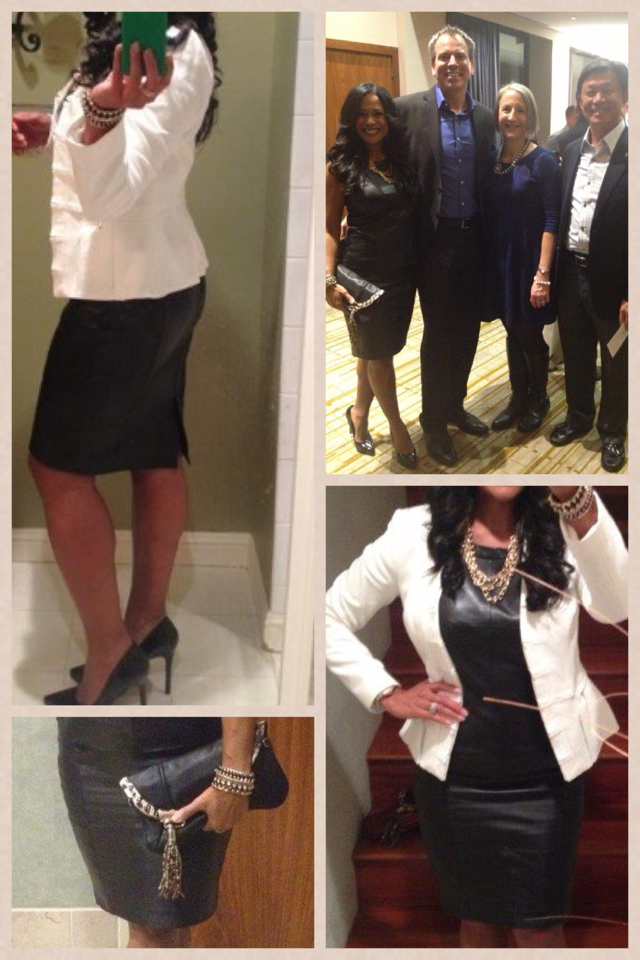 Confession: l LOVE to wear chic black (leather) pieces even though I have a closet full of color!  You?
This is what I created to wear to the Matt Talbot Center auction on Monday….I started out with color and then quickly fell back in love with these understated tailored pieces that just fit my shape to fit and flatter:  leather pencil skirt + leather shell + ponte knit off white novelty jacket to keep the Seattle chill off!
My brand and personal style is definitely anchored in classic "with a twist".  That twist can be:  chic, edgy, feminine, trendy, sporty, or _______, but it begins with (tailored) classic!
Tell me about your style!!!  Do you like neutrals or fashion color?  What's your statement of style for auctions and other fundraisers? …And how do you feel about leather?
TOP 3 TIPS for Leather
1.  Reserve leather dresses/skirts for (mostly) standing occasions.  Leather stretches quickly out of shape when sitting for periods of time.
2.  NEVER put adhesive name tags on your leather or suede  🙂 – think networking functions!
3.  If you have broad shoulders or are curvy, look for soft fluid leather pieces that drape well on your frame.
Happy Fashion Friday folks!
#ElevateYourStyle
Championing YOU…YOUR STYLE, BRAND, AND CONFIDENCE
from the "Inside-Out", Kim
Desire more?
Kim (Crumpler) Peterson is Founder of Uniquely Savvy, Inc and is a veteran Personal Style & Branding Coach, Wardrobe Stylist, J. Hilburn Custom Menswear Style Consultant, Co-author, and Speaker.  With a commitment to excellence (not perfection!), Kim delivers results and is passionate about helping men & women BE comfortable and confident in their own skin, step more into their potential, and attract more of who and what they truly want in life! Kim invites you to: Join the conversation on Uniquely Savvy's Facebook business page, call her for a free phone consultation, or book her to speak at your upcoming event. Available for keynotes, workshops, seminars, and girlfriend parties, the programs your audience will love range from personal style and professional image and branding, to success, hope and freedom. Additionally, Kim co-authored, "Incredible Life: Top Experts Reveal How to Create Yours", and speaks to a variety of audiences on personal empowerment – bringing inspirational messages of hope and sharing practical tips and tools learned on her inside-out, "From Fear to Freedom" journey. Contact Kim @ 425.503.9885.