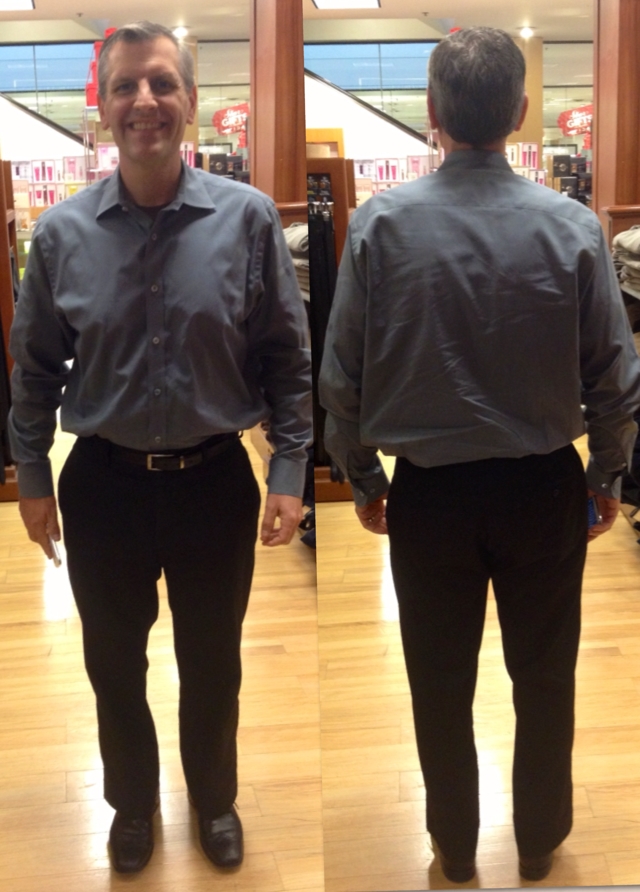 BEFORE
Shirt color washes him out and is too billowy in sides and sleeves.
Trouser are too big and conservative for his athletic and sporty build.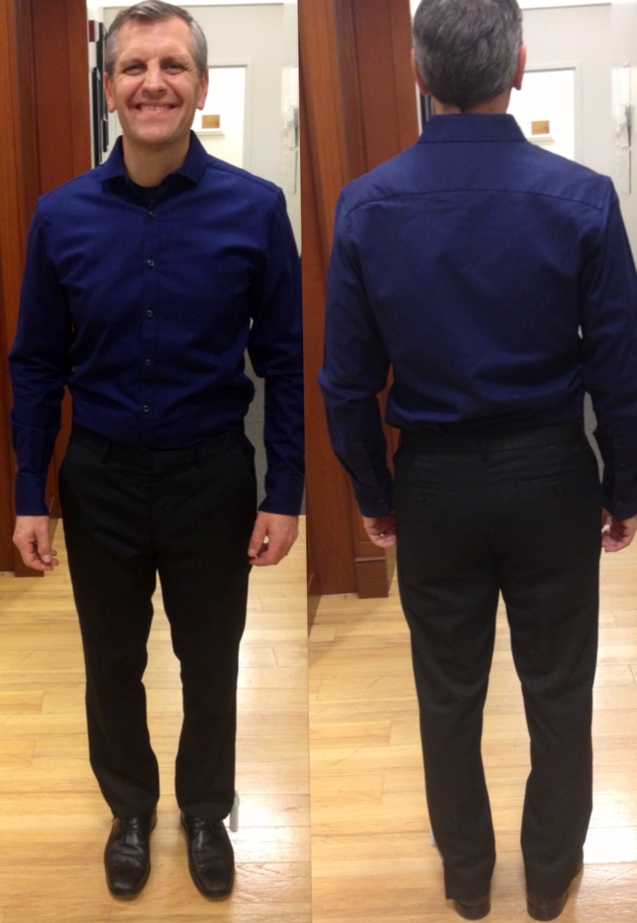 AFTER
 Slim fit beautifully textured shirt in one of his best blues (color reads better on right).  Shirt is tailored, yet still offers room in the sides as he prefers, and the slim fit trousers showcase all his hard work in the gym, while still looking professional! 
Meet Bob!  Bob and his beautiful wife just achieved some fitness goals and he's in need of some new duds that do right by him!
….I like the way Bob thinks.  He's all about VALUE which includes a variety of things:  Quality, color, fit and cost-per wear to name a few.  A family man, he also wants to update his wardrobe as quickly as possible.
With that in mind, while Bob invested in some J Hilburn ready-to-wear menswear, we did a combo of shopping off the rack as well.
Uniquely Savvy consulted and evaluated Bob's wardrobe (closet audit) – 1 hour
Uniquely Savvy pre-shopped without Bob for only 1 hour at Bellevue Square – A variety of stores
Bob showed up for a fitting – 2 hours
Result – Several new shirts and trousers to move seamlessly across Bob's lifestyle.
Benefit – Confidence + time and money savings!  Colors and "fits" to best represent his unique build and personal style (Shirts from Wine to blues and purples and blacks, solids and patterns.  Pants subtle patterns to solids)
Congrats Bob – you're an inspiration!  Thanks for showing us what you can do in fitness and in fashion – affordable off the rack!
JUST FOR LAUGHS:  We joked about how losing weight is a commitment because you are not only investing in your health, you are also investing in a whole new wardrobe!…Isn't that the truth?!  But alas, you CAN do it affordably and swiftly!
Championing YOU…YOUR STYLE, BRAND, AND CONFIDENCE
from the "Inside-Out", Kim
Desire more?
Kim (Crumpler) Peterson is Founder of Uniquely Savvy, Inc and is a veteran Personal Style & Branding Coach, Wardrobe Stylist, J. Hilburn Custom Menswear Style Consultant, Co-author, and Speaker.  With a commitment to excellence (not perfection!), Kim delivers results and is passionate about helping men & women BE comfortable and confident in their own skin, step more into their potential, and attract more of who and what they truly want in life! Kim invites you to: Join the conversation on Uniquely Savvy's Facebook business page, call her for a free phone consultation, or book her to speak at your upcoming event. Available for keynotes, workshops, seminars, and girlfriend parties, the programs your audience will love range from personal style and professional image and branding, to success, hope and freedom. Additionally, Kim co-authored, "Incredible Life: Top Experts Reveal How to Create Yours", and speaks to a variety of audiences on personal empowerment – bringing inspirational messages of hope and sharing practical tips and tools learned on her inside-out, "From Fear to Freedom" journey. Contact Kim @ 425.503.9885.