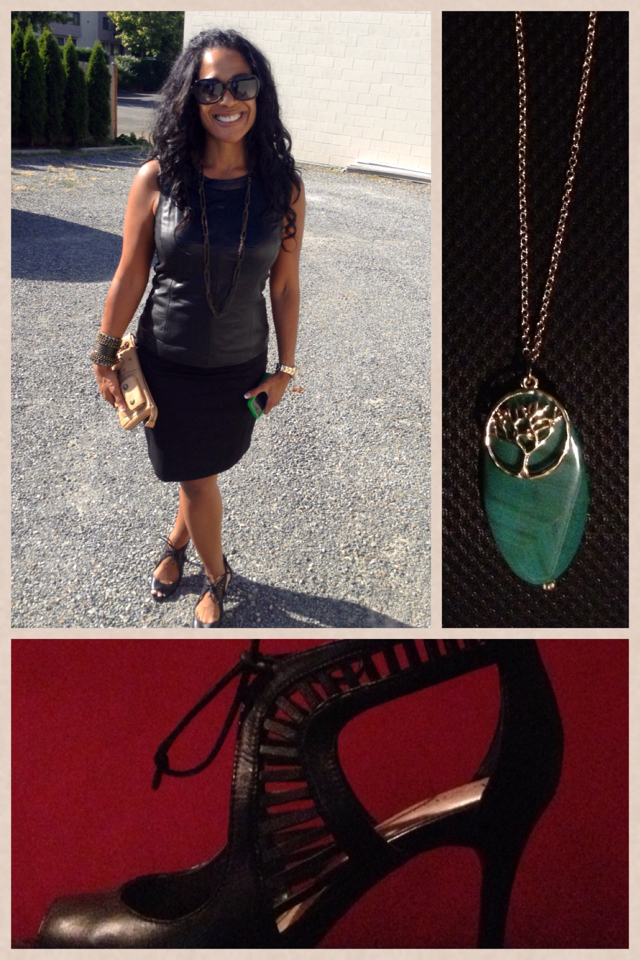 "The Chic, Versatile & Discerning Freedom Explorer & Champion of People" embodies my personal brand!
Over the last several months and again several times over this last week, I have been asked "Will you show more of your outfits?"……
For now, because you asked here's what I wore to give a presentation on Personal Style & Branding.  I added in another layer with this tree of life pendant that my bestie sent me for my birthday!
Candidly, three things pop up re posting more of my outfits:
1.  I (mostly) feel awkward posting pictures of myself.  It just feels like too much focus on me, though I do appreciate "stories" that are tied into appearance and style in which case I'm inspired to post!  The irony?  I'm in the beauty, style and image industries….and people want pics!
One client helped me put in in perspective just this evening.  I had asked her for some feedback after she emailed, "Great newsletter!"
One of the nuggets she provide was this:
"It closed with you sharing your own personal pics/fashion, thus bringing the whole fashion concept from something a bit "abstract" (i.e., these are attractive people I don't know but hey it's cool) to something I can relate to ("Oh, that's Kim! I know her and look she's sharing how she makes these choices in her own life.")"
That said, I'll try to share more often about what I'm wearing….but beware, the pics won't be perfect and neither will I!  My brand and my style attributes include "imperfect, everyday girl, and effortless".  The truth is:  I want to feel fabulous for myself AND I don't want to spend a lot of time or money doing it :-).  I'd rather be serving clients,  enjoying more time with friends/family and serving in my community.
2.  My desire is to keep Uniquely Savvy a positive community and I want to keep snarky comments at bay.  Too often I see people criticizing real people about their personal style (and other) choices.  While I may not agree with them, I don't want to be one of those people, nor do I want to have that on my page.  Whether for my clients who give permission for me to share, random pics of others, or myself….constructive feedback is appropriate, negativity and sarcasm isn't :-).
3.  Uniquely Savvy desires to add value by sprinkling tips and tricks in our posts to support and celebrate you on your inside-out style and brand journey, yet we are different than fashion magazines and bloggers whose business models are typically different than ours as a consultancy.    As we are in the business of coaching, consulting, and shopping (knowing where, when and how to shop) in person or via our VIRTUAL STYLE program, if you see things you are interested in, please send me a private message and ask about our VIRTUAL STYLE program which answers questions like, "Where did you get that?"  "Who is the designer?" "Would that fit to flatter my body type?" and more!
Thank you in advance for your understanding and I do invite you to visit Uniquely Savvy's YouTube and social media channels to glean practical nuggets and inspiration to keep you moving forward on your inside-out style and brand!
What are YOU wearing today? Happy Fashion & Freedom Friday!
Championing YOU…YOUR STYLE, BRAND, AND CONFIDENCE
from the "Inside-Out", Kim
Desire more?
Kim (Crumpler) Peterson is Founder of Uniquely Savvy, Inc and is a veteran Personal Style & Branding Coach, Wardrobe Stylist, J. Hilburn Custom Menswear Style Consultant, Co-author, and Speaker.  With a commitment to excellence (not perfection!), Kim delivers results and is passionate about helping men & women BE comfortable and confident in their own skin, step more into their potential, and attract more of who and what they truly want in life! Kim invites you to: Join the conversation on Uniquely Savvy's Facebook business page, call her for a free phone consultation, or book her to speak at your upcoming event. Available for keynotes, workshops, seminars, and girlfriend parties, the programs your audience will love range from personal style and professional image and branding, to success, hope and freedom. Additionally, Kim co-authored, "Incredible Life: Top Experts Reveal How to Create Yours", and speaks to a variety of audiences on personal empowerment – bringing inspirational messages of hope and sharing practical tips and tools learned on her inside-out, "From Fear to Freedom" journey. Contact Kim @ 425.503.9885.