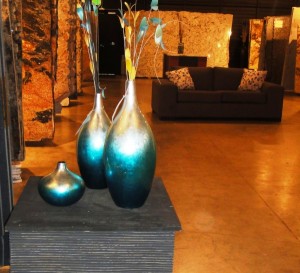 It's Fashion Friday! ….Picture yourself as *ready* to step into affordable style & inner confidence, then read on!
Just back from the locale for BEAUTY NIGHT OUT – the ambiance of this warehouse is stunning! It's so aligned with the textures, the colors -the inside-out beauty- of what you're gonna experience on November 30th!
Have you been wishin' for aspects of a makeover or expert direction: An easy, yet stylish hair do, make-up that rocks, solutions for your creeping wrinkles, go with everything jewelry, foolproof silhouettes that fit 'n flatter no matter your age or shape? Are you gettin' yourself back on track & desire to look 'n feel your best with…where…you are at…today?
Each handpicked expert is putting together mini, affordable options just for you, just for this event…Ample parking, a fab collection of passionate women…wine and light bites….affordable & accessible to all. No cost to attend. …Well, everything has a cost.
Perhaps this time, the cost is taking a risk to experience the possibilities of something different. Something better. Something that perhaps -truly is- the next small step to elevating your inside-out potential.
Shop with Confidence and Learn from our Stylists and Industry Experts:
• Kim Crumpler, Uniquely Savvy: 15 Minute Mini Makeover ($45)
*Option #1 Dress Your Shape for the Holidays & Beyond or
*Option #2: "At Your Service: Ask the Stylist"
….Ask Uniquely Savvy your burning personal style and brand questions and get the right customized tools in your inside-out success toolbox!
• Rodan + Fields Dermatologists Skincare Line
• Amanda Kyle and Karrie Bartram: 88 Kirkland Salon – Hair & Makeup
• Amber Fish: Eyelash Artist
• Elizabeth Harestad: Waxing Specialist
• Rebekah Terry: Stella & Dot Jewelry
You and your girlfriends are invited….Now it's up to you, here's to YOU and your possibilities!  For questions: Call Kim Crumpler 425.503.9985
Championing YOU…YOUR CONFIDENCE, BRAND, and STYLE
From The "Inside-Out", Kim
Desire more?
Kim Crumpler is Founder of Uniquely Savvy, Inc and is an 11 year veteran Personal Style & Branding Coach, Personal Shopper, Author, and Speaker. An expert, Kim delivers results and is passionate about helping men & women BE comfortable and confident in their own skin, look and feel amazing, and attract more of who and what they want in life! Kim invites you to: Join the conversation on Uniquely Savvy's facebook business page, call her for a phone consultation to determine how you will best benefit from her expertise, or book her to speak at your upcoming event. Available for keynotes, workshops, seminars, and girlfriend parties, the programs your audience will love range from personal style, to professional image and branding. Additionally, Kim co-authored, "Incredible Life: Top Experts Reveal How to Create Yours", and speaks to a variety of audiences on personal empowerment – bringing inspirational messages of hope and sharing practical tips and tools learned on her inside-out, "From Fear to Freedom" journey. Contact Kim @ 425.503.9885 or learn more at www.uniquelysavvy.com.