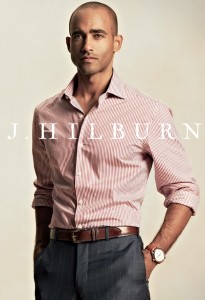 Just like diamonds, there are the 4 C's to a custom shirt; Color, Cut, Cuffs, and Collar.  Your typical male will purchase an off-the-rack shirt with minimal thought as long as it appears to fit and he likes the color. He will go through the day with minimal regard to looking average at best, but that's not you, is it?
As I've pointed out many times before, first impressions are the most important, but it's not too late -we make first impressions every day.
You ever look at those business men that always look impeccably dressed or the TV personality who looks like he just fell out of a full page ad?  These people don't necessarily have the perfect physique, what differentiates them are the attention to personal style, details, and often times – custom clothing.  They are dressing for success.
That's where Uniquely Savvy comes in.   We recently added the custom clothing line of J. Hillburn, but much more than that we offer the services that provide you with the perfect attire, starting with the shirt.
Today's custom shirt can look great casual un-tucked with a pair of jeans, with a suit, and the growing trend of a vest worn with a suit or casual.
The 1st C:  Color. Uniquely Savvy will help you identify what colors work for your eyes, hair, and skin tone, we call this a Color Analysis. Take the hesitation out of buying up the color trend right now and receive tips on coordinating your wardrobe around your complementary neutrals & fashion colors.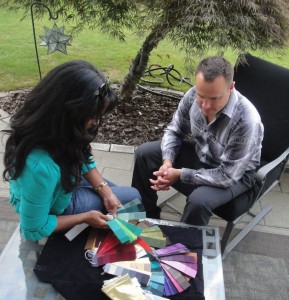 The 2nd C:  Cut. We provide a full measurement to ensure your shirt is cut appropriately for you, eliminating the extra fabric through your sides and arms.  More than that, our 20+ years of experience will help identify areas to take careful notice of, including the ever crucial right length if you're going to be wearing it with jeans -un-tucked.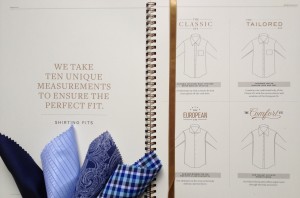 The 3rd C:  Cuffs. Something selected off-the-rack isn't going to give you any options with the cuffs. Take it or leave it so to speak. J. Hilburn has a multitude of cuff options including different colors, contrasting colors/patterns -even multi-functional options with convertible and regular cuff link options.  We will consult with what works best for you, your personality, and the environment for which you will be showcasing yourself.
And finally, the 4th C: Collar. Same as cuffs, off-the-rack is the take it or leave it approach, but we offer  so many options to consider for the desired look you are trying to maintain. Whether it be the modern spread, tab collar, or the English cutaway for something funky, our experience is what will get you the desired effect.
As you can see, off-the-rack won't afford you the luxury of choosing the 4 C's for the desired look you demand.  That's why Uniquely Savvy has partnered with J. Hillburn. We want to make it easy for you to align your Seattle personal style and brand & look sharp day in and day out -no matter your occasion.
Call us for your J. HiIlburn consultation today  425.503.9885
Championing YOU…YOUR STYLE, BRAND, AND CONFIDENCE
from the "Inside-Out", Kim
Desire more?
Kim Crumpler is Founder of Uniquely Savvy, Inc and is a veteran Personal Style & Branding Coach, Personal Shopper, J. Hilburn Custom Menswear Style Consultant, Author, and Speaker. An expert, Kim delivers results and is passionate about helping men & women BE comfortable and confident in their own skin, look and feel amazing, and attract more of who and what they want in life! Kim invites you to: Join the conversation on Uniquely Savvy's facebook business page, call her for a phone consultation to determine how you will best benefit from her expertise, or book her to speak at your upcoming event. Available for keynotes, workshops, seminars, and girlfriend parties, the programs your audience will love range from personal style, to professional image and branding. Additionally, Kim co-authored, "Incredible Life: Top Experts Reveal How to Create Yours", and speaks to a variety of audiences on personal empowerment – bringing inspirational messages of hope and sharing practical tips and tools learned on her inside-out, "From Fear to Freedom" journey. Contact Kim @ 425.503.9885.