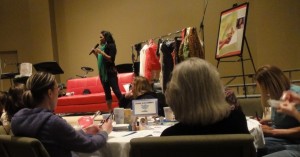 Fashion Freedom!  Who wants it?
One of my passions lies in helping individuals discover their authentic selves so that they  gain confidence to express who they truly are in style, word, & action.   Monday night I was honored to share "3 Steps to Fashion Freedom" with MOPS moms for their annual "Night of Pamper."  The best part of the night?  Seeing these fabulous moms light up in their own personal "aha" moments!   …Here's a quick peek at the night in review.
 3 Steps to Fashion Freedom
1.  Know Yourself
2.  Acknowledge Your Body Assets & Challenges
3.  Dress to Align Your Authentic Essence from the Inside-Out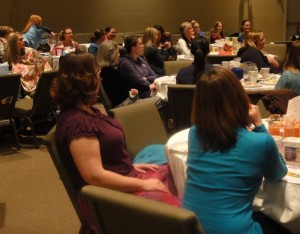 Step 1. Know Yourself
Take time to discover who you are at your authentic core.  In my co-authored book, "Incredible Life", I write, "Stop comparing yourself to others.  No one else is like you.  When you know who you are authentically and give yourself to "be", you naturally feel more comfortable and confident in your own skin and allow others the freedom to do the same."
What's unique about you, your personality, your skills, talents, or abilities?
What inspires you?
What core values guide you and your choices?
What elements of style excite you?
Can we tell a bit about who you are by the way you dress?  Are you dressing as a reflection of your authentic self or just trying to keep up with trends 'n friends?  One of the benefits of fashion freedom:  Freed up mind space.   I invite you to give yourself permission to BE & take ownership of who YOU are and have fun as your personal style spectacularly evolves!
…We spent some good time here before we got to styling.  Why should you care about such things?  I like to say, you can only be as beautiful and free on the outside as you are on the inside.  The best personal style comes from a place of discovering and "knowing" yourself on the inside and dressing in alignment on the outside.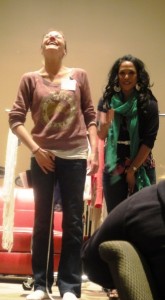 "Best Pic " of the night! Taking inseam measurements (and more) to
get the right jean RX was a crowd fav! 
Step 2.  Acknowledge Your Body Assets 
What are your assets?
What are your challenges?
How can you use line design to create visual balance?
Step 3.   (Shop &) Dress to Align Your Authentic Essence from the Inside-Out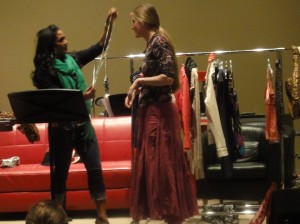 Rebecca wanted ideas on accessories….and took home a necklace!
Empowered and equipped, I've talked with several ladies who have already bought new scarves, hats, and accessories…Just off the phone, one is shopping right now!
Mom's Raved:
"Kim spoke at our Mom's Night of Pamper on "Three Steps to Fashion Freedom".  She did a fabulous job engaging all of us and pulled different women from the group up on stage to demonstrate a variety of style concepts.  Kim had the ability to answer the questions that they had right there on the spot!  The tips and ideas that she gave worked for all body types and sizes, not just for the type or size of woman she had up on stage.  The women were so excited when each of them were up on stage.  They were given an item to go along with their questions; one lady got a scarf, one a belt, and Kim gave many other things away.  The biggest complaint we had about the night was that we wanted her to keep talking after the meeting was over!!  I would have her back again and again!!!" 
-Bobbie Jo Shockley, MOPS Coordinator
"Kim was fabulous! She is both professional and approachable, and drew in every woman in our group. She was able to answer any question thoughtfully, with both specific and general advice. When it came to addressing body image, Kim used gentle humor to put everyone at ease, creating an accepting environment where every woman's unique and authentic beauty was celebrated.  I was encouraged and inspired by ideas that I could apply to my personal style and body shape. Kim is so much fun – we all had a blast!"
-Anna Pringle – MOPS Coordinator
Special Thanks: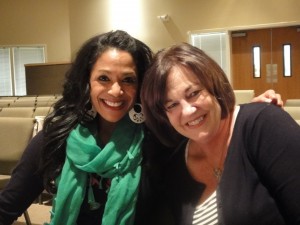 Shout out to Judy, mentor mom and past client from about 7  years ago.  Thanks for the invitation to share with such a fabulous group of gals!
Championing YOU…YOUR CONFIDENCE, BRAND, and STYLE
From The "Inside-Out", Kim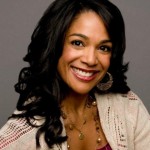 Desire more?
Kim Crumpler is Founder of Uniquely Savvy, Inc and is an 11 year veteran Personal Style & Branding Coach, Personal Shopper, Author, and Speaker. An expert, Kim delivers results and is passionate about helping men & women BE comfortable and confident in their own skin, look and feel amazing, and attract more of who and what they want in life! Kim invites you to: Join the conversation on Uniquely Savvy's facebook business page, call her for a phone consultation to determine how you will best benefit from her expertise, or book her to speak at your upcoming event. Available for keynotes, workshops, seminars, and girlfriend parties, the programs your audience will love range from personal style, to professional image and branding. Additionally, Kim co-authored, "Incredible Life: Top Experts Reveal How to Create Yours", and speaks to a variety of audiences on personal empowerment – bringing inspirational messages of hope and sharing practical tips and tools learned on her inside-out, "From Fear to Freedom" journey. Contact Kim @ 425.503.9885 or learn more at www.uniquelysavvy.com.