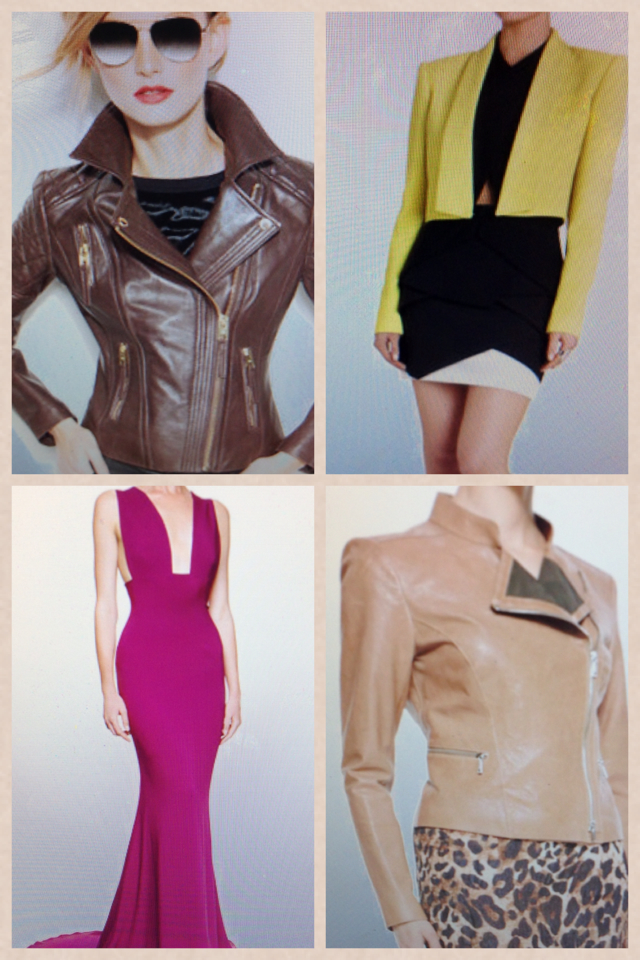 WHAT IS VIRTUAL STYLE?
…Because someone else wrote in asking, "What's involved with VIRTUAL STYLE?  I need to find a party outfit for my 70th!
3 Different Clients with Unique Needs, Coloring, Personal Style, and Budgets
Blonde hair, piercing blue eyes – she's understated yet with a very fun twist and mixes her wardrobe accordingly!  Tall with broad shoulders – she's looking for a supple MOTO jacket.  Her preconceived idea is that she "can't" wear them due to her build.  Knowing exactly what shapes/line design and colors to look for, online shopping was quick!  An investment of $135 landed her 10 gorgeous options from Neiman's, Nordstrom, BCBG, and Macy's (most of them with big discounts)!  LINKS to her INBOX, she now will order what she likes best and likely have me over for a look prior to cutting the tags!
Medium brown hair with caramel-y/blonde highlights, hazel eyes, shorter with an hourglass figure and artistic flair-   When I told her about all the fabulous finds and fabulous pricing due to the Veteran's Day sales, she said "Yes, would love it if you reached out to me about these deals…I don't have time to keep track, so I truly appreciate that service!"  She's an out of state client whom I've worked with many times over….She had me find missing gaps in her wardrobe and anything else that my eye spied according to her profile!  1.5 hours later she had boots, shoes, tops, and jackets delivered to her INBOX from Nordstrom, Macy's, Ann Taylor and BCBG.
A Seattle Socialite whom I've worked with in person over the years wanted a jump start on party outfits for the holidays.  Online shopped Neiman's, Saks, Wilkes Bashford, Bloomingdales, Barneys and Nordstrom for those special dresses that not everyone will be donning.  Sent her gorgeous choices by way of LINKS, she had me order her top 4 and send them to her home.  One week later they arrived and we had a fitting…Fantastic, they were all winners!!!  All together I was there for only 1 hr and 15 minutes.  She had me check for fit and color and invested in having Uniquely Savvy mix and match several looks for each dress……What a rush!  She….looks….STUNNING, and she glows! Such success in the span of only about a week.
TIP:  For special occasion shopping, begin the process at least 3 weeks out in order to alleviate unnecessary stress while you get the color, fit, and style…you really want!
VIRTUAL STYLE USES:  Web, photos, email, phone, SKYPE and other technologies
VIRTUAL STYLE OFFERS MEN & WOMEN SOLUTIONS:
Online Shopping – Delivers choices you'll love from a variety of shops, in your best colors, in your best styles & according to budget (right to your INBOX)….while resting in the expertise of your trusted style advisor.
Body Analysis – Teaches you your personal best practices so you can shop/dress with confidence and ease
Wardrobe Analysis – Determine what stays, goes, gets altered….Identifies missing gaps and creates a shopping a unique shopping list customized just for you.
Personal Brand & Style Analysis – Assesses where you're out currently and champions you in aligning YOU from the inside-out
First Impression Analysis – Graciously assesses your essence through style, verbal and nonverbal communication, online profiles…and more.  Seeks to understand the impression you desire to make, then discerns the best ways to bridge the gap while providing actionable tips for implementation.
Custom Color Analysis – is available IN PERSON.
Virtual Style clients save time, money and frustration….Whether now or in the future, let me know how I can take the hassle and stress out of your shopping.
Happy Monday!
Championing YOU…YOUR STYLE, BRAND, AND CONFIDENCE
from the "Inside-Out", Kim
Desire more?
Kim (Crumpler) Peterson is Founder of Uniquely Savvy, Inc and is a veteran Personal Style & Branding Coach, Wardrobe Stylist, J. Hilburn Custom Menswear Style Consultant, Co-author, and Speaker.  With a commitment to excellence (not perfection!), Kim delivers results and is passionate about helping men & women BE comfortable and confident in their own skin, step more into their potential, and attract more of who and what they truly want in life! Kim invites you to: Join the conversation on Uniquely Savvy's Facebook business page, call her for a free phone consultation, or book her to speak at your upcoming event. Available for keynotes, workshops, seminars, and girlfriend parties, the programs your audience will love range from personal style and professional image and branding, to success, hope and freedom. Additionally, Kim co-authored, "Incredible Life: Top Experts Reveal How to Create Yours", and speaks to a variety of audiences on personal empowerment – bringing inspirational messages of hope and sharing practical tips and tools learned on her inside-out, "From Fear to Freedom" journey. Contact Kim @ 425.503.9885.